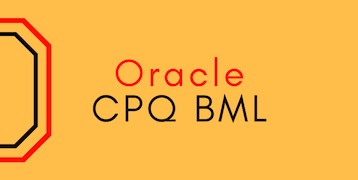 Enhance your Career by Oracle CPQ BML Online Training and Certification By Gologica
46 46 people viewed this event.
With GoLogica's Oracle CPQ course learn to create an end-to-end smarter selling cloud solution so sales personnel are more productive, customers are more satisfied, and companies grow revenue faster.
What you will learn in Oracle CPQ Training?
1. Introduction to BML, Syntax, Variables, Data Types, and Functions.
2. Simple BML Functions, Conditionals in BML, Arrays in BML, Loops in BML, Dictionaries,         Big Machines Query Language (BMQL), Library Functions etc.
GoLogica is offering an instructor-led Oracle CPQ BML training. Oracle CPQ BML course aims at teaching you to Configure, Price, and Quote products. The course is designed by experts who are well versed in this domain. By the end of the course, you should be able to understand the concepts of Oracle CPQ BML and how and where is used. This course covers Oracle CPQ training in detail for you to be able to take up the certification examination with ease. On successful completion of the course and exam, you will be certified Oracle CPQ Professional.
Oracle CPZ cloud certification training will give you the knowledge required to Design and integrate CPQ Cloud with ERP and other backend systems, install and configure CPQ Cloud Managed Packages, and design commerce pricing, rules, and workflows. Individuals who earn this certification are able to write and design BML scripts, configure subscription ordering, and implement BOM mapping.
With the acquisition of Big Machines, Oracle has added a Configure, Price and Quote (CPQ) solution to your portfolio of cloud applications. During an Oracle CPQ Cloud deployment, the immediate goal is to accelerate the implementation and adoption of your application so your business can successfully automate its entire Quote-to-Cash process. Oracle CPQ Cloud (Configure, Price, and Quote) helps you sell faster, easier, and with greater accuracy—from anywhere. Traditional approaches to producing quotes and proposals from your CRM system can be complicated, manual, and poorly defined, –resulting in errors and wasted selling time.
As one of the key ITIL Service Capability modules, the OSA Module enhances your ITIL knowledge and skills enabling you to execute and implement specific ITIL processes effectively. The ITIL Intermediate Qualification: Operational Support and Analysis (OSA) Certificate is a free-standing qualification but is also part of the ITIL Intermediate Capability stream, and one of the modules that leads to the ITIL Expert Certificate in IT Service Management. GoLogica offers Oracle CPQ certification training that prepares you for the ITIL OSA exam with online self-paced learning and/or in a classroom learning environment.
Contact Details : 8296960414
Website: www.gologica.com/course/oracle-cpq-bml-training/